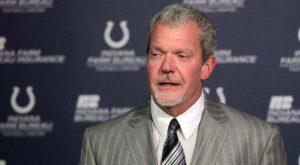 Jim Irsay, who became the youngest owner in the history of the National Football League back in 1997, was arrested on Sunday night on the suspicion of driving while intoxicated. He was arrested by police in Carmel, Ind., a suburb of Indianapolis.
To make matters worse, Irsay has also been charged with possession of a controlled substance. He faces four felony charges for the possession of prescription drugs. In the 1990s, it was reported that Irsay had become addicted to Vicadin. He had several surgeries to correct some back problems and wound up hooked on painkillers.
The younger Irsay took over ownership of the Colts officially in 1997 at the age of just 37. His father, Robert, had bought the team in 1972. When he suffered a stroke in 1995, Jim took control of the day-to-day operations.
Irsay failed field sobriety tests after he was pulled over by Carmel police. A subsequent search of his vehicle discovered multiple prescription drugs. The "Schedule IV" drugs, as they are known, were not associated with any prescription bottles also found in the vehicle. If Irsay is found guilty of the possession charges, all felonies, he could spend six months to three years in jail.
He will likely face punishment from the league office and commissioner Roger Goodell. There is some precedent as Goodell was forced to levy consequences for Detroit Lions president Tom Lewand, who was found guilty of driving while intoxicated in 2010. Lewand was fined $100,000 and suspended for 30 days (which was reduced to 21).
Irsay was held on a $22,500 bond until Monday afternoon. His first hearing in the matter is scheduled for March 26. With his arrest on Sunday, Irsay becomes the seventh person associated with the Colts, either player, coach, or front office personnel, to be arrested since 2010.