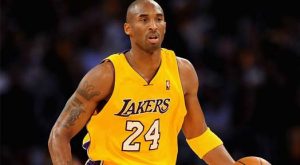 It has been eight months since a season-ending Achilles injury knocked future Hall of Famer Kobe Bryant out of the Los Angeles Lakers lineup. Sunday will mark the return as Bryant suits up for the first time this season when the Lakers welcome the Toronto Raptors to the Staples Center.
It was April 12th during the 2012-13 NBA season when Bryant went down in a game versus Golden State. With the Lakers fighting for the eighth and final playoff spot in the Western Conference, Bryant had been routinely playing 40-plus minutes per game. At the time of his injury, the 15-time All-Star was averaging 27 points, 6 rebounds, and 6 assists per game.
Lakers head coach Mike D'Antoni hopes that Bryant can provide the necessary spark to solidify the team's playoff aspirations. The Lakers are currently 10-9 and once again fighting for the eighth spot in the West.
The injury to Bryant, who is now 35 years old, could have been career-ending, but the Lakers' star pushed himself through a grueling rehabilitation process to return quicker than most would have. Other professional athletes who have suffered a torn Achilles tendon have taken much longer to return and for some, the injury marked the end of their careers.
With Kobe back, D'Antoni will have to use him wisely. Bryant was averaging 38.6 minutes a game last season. He will likely be eased back into the lineup. The Lakers are missing the services of guard Steve Nash as well. Nash has been suffering from nerve problems which are affecting his back and hamstrings. He has played in just six games thus far.
In the midst of Bryant's rehab, the Lakers made a commitment to him with a two-year contract extension worth $48.5 million. He will likely end his career in Los Angeles. There is also enough room under the salary cap for the Lakers to sign another big-name star next summer. Since the Dwight Howard experiment did not work out, the Lakers could try once more to pair another star with Kobe to give he, and the Lakers, another shot at an NBA title.