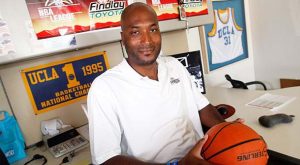 Six players that are currently still playing college football joined a lawsuit filed against the NCAA on Thursday started by Ed O'Bannon a former UCLA basketball standout, that challenges the economic model of big-time sports.
University of Arizona football players Jake Smith and Jake Fischer, join Clemson cornerback Darius Robinson, Vanderbilt linebacker Chase Garnham, and Minnesota players Moses Alipate, a tight end, and Victor Keise a wide receiver.
The judge in the case, Claudia Wilken, had asked plaintiffs in the case to add at least one current player to the lawsuit back in June. She will now decide on whether the class of current and former players will be certified. If so, the group will be permitted to seek its claims as a group instead of as individuals.
O'Bannon initially brought the suit against college sports governing body back in 2009. The suit charges the NCAA uses players' names and likenesses in things like video games, and players are compensated at the fixed amount of zero. O'Bannon, and the others, claim that players should be compensated.
"If we didn't exist, there would be no University of Arizona football team," said Smith, the Wildcats' kicker. "There would be no Alabama Crimson Tide football team… Without us, there is no they."
If certified as a class action case, thousands of former and current players will have the option to join the suit. The ruling would be a win for the players and put severe pressure on the NCAA to settle the suit. With plaintiffs demanding a cut of the billions of dollars earned from live broadcasts, video games, and memorabilia sales, the NCAA may want to avoid any court proceedings.
Ironically, the current players joining the lawsuit came exactly one day after the NCAA decided that will no longer allow EA Sports to use its name and logo in its video games.