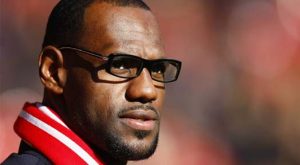 He has won two NBA championships and now he turns his attention to another endeavor - becoming a television producer. Two-time NBA Finals MVP LeBron James will be behind the camera as the executive producer of the sitcom Survivors Remorse, a new show that he has helped develop for the Starz Network.
Lebron James produces Survivors Remorse TV series on Starz Network
The show is based on two men who grew up on the streets and achieve fame, one who makes it in the NBA and one who does not. The sitcom Survivors Remorse will examine how the young men deal with their friends and family through their successes.
James' business partner Maverick is working on the show with him. Carter is a long-time friend of James. Also part of the project is Tom Werner, who worked on shows such as The Cosby Show and Roseanne. One executive producer will be Mike O'Malley, who will also serve as the writer. The other executive producer is Paul Wachter.
Set of the Show to take place in North Philadelphia
The show will be set in North Philadelphia, not Akron, Ohio, where both Carter and James grew up. Werner did say that what inspired him to create the show came from talking with Carter and eventually with James himself. Carter's firm LRMR represents James in all of his business dealings, including contractual negotiations with his current employer, the Miami Heat.
Starz will air the show, expanding the network's current list of original titles. The CEO of the Starz network, Chris Albrecht, likes the show since it is something completely different than what the network is used to. Albrecht wants to continue adding original shows to the lineup alongside recently released The White Queen.
The show has no timetable yet so don't expect it to be airing any time soon. It is still in development and Starz has no definitive date for completion. The show is a comedy and is designed to make people laugh. It will take on some serious subjects, though, just like when Werner worked on Roseanne.