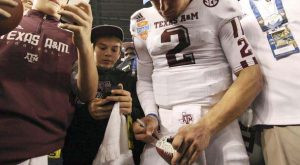 The annual NFL Scouting Combine was held over last weekend and finished Monday at Lucas Oil Stadium in Indianapolis. There were several eye-opening performances, including Jadaveon Clowney's blazing 40-yard dash, and some not-so-great numbers put up by former Heisman Trophy winner Johnny Manziel and Missouri defensive end Michael Sam.
Clowney, the South Carolina DE who was the SEC Defensive Player of the Year in 2012, ran his two 40 attempts in 4.47 and 4.48, unofficially. His official time of 4.53 is amazing considering that Clowney measured 6-foot-5 ¼ and weighed in at 266 pounds. By comparison, Oregon speedster De'Anthony Thomas ran 4.50.
As impressive as Clowney was in the 40-yard dash and vertical and broad jumps, he was equally disappointing in the strength test. Athletes must bench press 225 pounds as many times as they can. While Aaron Donald, the Lombardi and Outland Trophy winner, completed 35 reps, Clowney could manage just 21. Still, scouts were amazed at the abilities of the two-time All-American who should be one of the first five players picked.
Manziel enjoyed a very average workout, less than impressive for his Johnny Football hype. Upon arriving at the combine, Manziel measured just 5-11 ¾, nowhere near the 6-1 that he was listed at while at Texas A&M. Scouts will question his size even though guys like Drew Brees (6-0 5/8) and Russell Wilson (5-10 3/8) have proven that size doesn't always matter. Manziel's 40 time of 4.68 led the QB group, but was slower than expected.
Sam, who came out with the news that he is gay just prior to the beginning of the combine, had a very lackluster performance. Scouts, who believed he was a third- to fifth-round pick, may reconsider and Sam could drop on most teams' draft boards.
The Missouri defensive end measured in at 6-2, 261 pounds, a little small for the prototypical NFL DE. Many scouts see him as a 'tweener, too small to play DE yet too slow to be a stand-up linebacker. Sam ran the 40 in a dismal 4.91 and cranked out just 17 reps on the bench press. There were eight wide receivers who did more reps than Sam. He will still have some time to improve on his numbers, but his combine performance did nothing to enhance his draft stock.