Men's 5K, Women's 200 Highlight World Track and Field Championships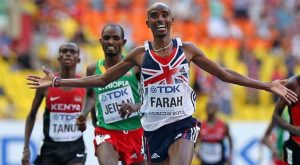 Olympic champion Mo Farah left no doubt as to who the best men's distance runner in the world is right now. On Day 7 of the World Track and Field Championships, Farah kicked his way home in 13 minutes, 26.98 seconds to claim the world title in the 5,000 meters.
Farah, of Great Britain, had earlier won the 10,000 meter run to complete a historic double-double. The Somali-born runner won both the 5,000 meter and 10,000 meter runs at the London Olympics last summer. Winning this 5,000, though, was much tougher than claiming Olympic gold.
Farah was being pressed the East African duo of Hagos Gebrhiwet (Ethiopia) and Isaiah Koech (Kenya) when he unleashed a tremendous kick to defeat the pair by almost a half second. Gebrhiwet took second place in 13:27.26, while, in a photo finish, Koech took third. Farah's last lap was a blistering 53.5 seconds.
In other world championship action, Jamaica's Shelly-Ann Frasier-Price cemented herself as the dominant female sprinter in the world. Competing against American Allyson Felix in the 200 meters, Frasier-Price ran by everyone and cruised to victory in 22.17 seconds. Felix pulled up in the middle of the turn with what looked to be a right hamstring injury. Frasier-Price pulled away from the rest of the field. Murielle Ahoure (Ivory Coast) nipped Blessing Okagbare (Nigeria) at the line for second place.
Russian Alexksandr Menkov won gold in the long jump with a world best jump of 28 feet, 1 inch. He defeated his closest competition, Ignisious Gaisah of the Netherlands, by almost a foot (27 feet, 2.5 inches). In the day's final event, the American men put together a 4 x 400 meter relay minus their stars and won in a world-best 2:58.71.
Sunday is the final day of competition and fans, and the rest of the world, will be anticipating the culminating event – the 200 meter dash. Usain Bolt, reigning Olympic champion, will look to claim another gold medal in the world championships. He won the 100 meters earlier in the week.
Most Recommended