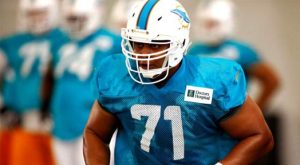 Former Miami offensive tackle Jonathan Martin, who the main target of the whole Dolphins' bullying scandal last season, was traded by the organization on Tuesday, the first full day of NFL free agency, to San Francisco. Martin returns to the San Francisco area and to his former collegiate coach, Jim Harbaugh.
San Francisco confirmed that the trade was indeed made; however, they did not disclose the terms of the deal. According to ESPN, if Martin makes the 49ers' opening day 53-man roster, the Dolphins will receive a seventh-round draft choice in 2015.
Martin, in his second year in the league last season, abruptly left the team after eight games. He claimed that he was bullied by fellow offensive linemen Richie Incognito and John Jerry. Incognito's name came up first as the ringleader of the harassment. After an investigation into the Dolphins' organization, it was found that Incognito, as well as Jerry, did engage in a pattern of constant harassment of Martin.
The report of the investigation also revealed that an assistant trainer and another offensive lineman were the objects of the bullying as well. Jim Turner, the Dolphins' former offensive line coach, and Kevin O'Neill, who had served as the team's trainer for almost two decades, were both implicated in the report for not having done anything to stop the constant harassment. Both Turner and O'Neill were fired by the organization.
It was no secret that Martin and Incognito would not return to Miami for the 2014 season. Incognito and Jerry are now free agents and may find it difficult to latch on to another team for this season.
Martin returns to a familiar area. He played college football at Stanford when Harbaugh was the head coach there. Martin was the left tackle when Indianapolis Colts star QB Andrew Luck