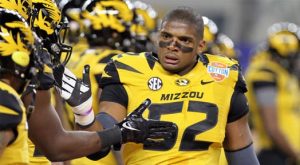 Missouri defensive end Michael Smart made it official to the public – he is gay. The first-team All-American came out publicly in interviews with ESPN's "Outside the Lines" and the New York Times.
Smart was the Southeastern Conference Defensive Player of the Year last year for the Tigers, who finished the season 12-2 and were champions of the Cotton Bowl. In its second year in the SEC, Missouri won the East Division and played Auburn for the league title. Sam played a key role in the Tigers' success with an SEC-high 11.5 sacks and 19 tackles for loss.
A senior, Sam will likely be a high round draft pick in the upcoming NFL Draft. He would then become the first openly gay athlete in the NFL. Most analysts and scouts see Sam as a second day pick, possibly going in the third round. They also see him as more of an outside linebacker or hybrid defensive end. At 6-foot-2, 260 pounds, Sam is blessed with great speed which could be utilized by a 3-4 team as a rush linebacker.
During Missouri's pre-season training camp, players were put through a series of team-building activities. One of the activities asked players to get up and speak about themselves, revealing where they were from and why they chose the University of Missouri. When it was Sam's turn, he told his teammates that he was gay.
While several professional athletes have come out publicly, none did so while an active player. Last spring, Jason Collins, who played 12 years in the NBA , made it public that he was gay in a Sports Illustrated article that came out after the 2012-13 regular season ended. Collins was a journeyman backup throughout his career and after his announcement, was not signed by another team.
Just a month ago, Conner Mertens, who is a kicker at NCAA Division III Willamette University in Oregon, was the first active college football player to come out publicly.