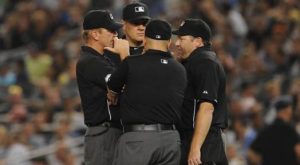 Major League Baseball will expand its replay system beginning with the 2014 season. The Players Association and the Major League Umpires Association reached an agreement on Thursday to create the new MLB replay system.
Beginning next season, managers will now a challenge that may be used at any time during the game to review a play. If the challenge is upheld, managers can potentially earn a second challenge to be used at any point during the game.
From the seventh inning on, umpires will have the ability to trigger a review of any questionable plays only if managers have used up all of their challenges. The current rules on any questionable home run will remain in place and they will continue to be reviewed in that manner.
A major change will take place with plays at first base and at home. For the first time ever, all plays will be reviewable. There will be a few exceptions, but going into the 2014 season almost 90 percent of all plays in baseball will be reviewable.
Plays such as as a ground rule double, catcher's interference, and a batter being hit by a pitch will all be reviewable. The list goes on to include most of the more controversial calls in baseball, such as the "fair or foul" call on a ball hit to the outfield.
As part of the agreement, the umpires association will hire eight new umpires (a total of two new crews) and will use a rotation of existing umpires to staff the replay center. The league was considering using former umpires and umpire supervisors.
The committee that helped get the new replay system deal done was led by former manager and current MLB executive Tony LaRussa, MLB executive vice president Joe Torre, and Atlanta Braves president John Schuerholz.