More Troubles For Johnny Football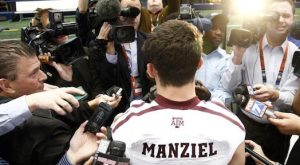 After reports that Texas A&M quarterback and Heisman Trophy winner Johnny Manziel signed autographs over two days back in January, sources are now reporting that "Johnny Football" took part in two additional autograph sessions, one also in January after the BCS National Championship game and another in late January in Houston.
Just last week, sources claimed that Drew Tieman, an autograph broker from Miami, had Manziel put his signature on approximately 1,100 different items over a two-day period back in January. Manziel was attending the BCS title game when he supposedly signed his autograph in return for a five-figure payment.
The same week, two more autograph brokers from the Northeast claimed that "Johnny Football" signed roughly 300 more items and received $7,500 as a result. The latest allegations are that Florida-based autograph dealer Kevin Friestat helped put together the additional sessions.
The NCAA has been investigating Manziel and whether any of the signings have violated any of the NCAA's by-laws. If it is found that Manziel did indeed receive compensation for any of the autographs that he signed, he will be in violation of NCAA bylaw 12.5.2.1, which states that a student-athlete cannot accept money to help promote or advertise any service or product. Should Manziel be found to have violated this particular bylaw, he could miss the entire 2013 college football season.
Even if Manziel did not handle or receive any cash, he could still be in some hot water. NCAA bylaws also state that a student-athlete must attempt to prohibit the sale of any product that features his or her likeness. Even if Manziel did not receive compensation for his signatures, he could still be ruled ineligible for knowing that the items he signed would be resold for financial gain.
The new allegations – the signings with Friestat – combined with the four previously reported autograph sessions makes six different occasions where last year's college football MVP engaged in signing memorabilia. He did it in three different states over the period of a month.
The burden of proof falls upon the NCAA, which will have to prove that Manziel accepted money in return for his autograph. There are pictures of Manziel engaged in signing memorabilia, but there is no evidence that he ever accepted any form of payment for doing so.
Most Recommended