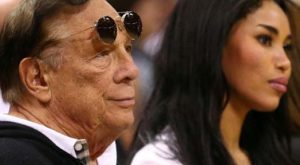 The NBA is investigating Los Angeles Clippers owner David Sterling over an audio recording that was obtained by TMZ, which reportedly contains some very harsh racist statements. New league commissioner Adam Silver will not punish Sterling until the matter has been thoroughly reviewed.
For the most part, the rest of the league has expressed its feelings for Sterling most of them, of course, not too favorable. Chris Paul, who plays for the Clippers and happens to be the president of the NBA Players Association, says that Sterling shouldn't be allowed to own a team. Stephen Curry, Golden State point guard and current Clippers opponent in the playoffs, agrees. Even Lakers star Kobe Bryant said, on Twitter, that he could not play for Sterling.
For Silver, it is the first major issue that he has had to deal with in his short tenure as NBA commissioner. Silver will proceed cautiously and has stated that Sterling, as anyone, deserves due process. The audio recording will need to be authenticated and, if it is proven that the statements were made by Sterling, Silver has said that the league will act against Sterling.
The team has already issued a statement questioning the validity of the recording and TMZ's source. That source is a former girlfriend of Sterling who is being sued by him for embezzling almost $2 million of his money. The release of the recording, Clippers president Andy Roeser said, is an attempt at revenge.
The biggest voice in the NBA may be that of its premier player, LeBron James. The King has stated that he believes the league should administer harsh punishment to Sterling should the audio recording be proved authentic. James statements were directed toward Silver, adding to the immense pressure on him already.
Sterling has owned the Clippers since 1981, when he bought the team for $12.5 million. The franchise is currently valued at $575 million. Sterling was sued years ago by Hall of Famer Elgin Baylor, a Clippers legend and a former general manager for the club.