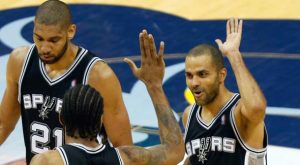 It was the first matchup in the history of the NBA featuring a team with a 10-plus game winning streak taking on a team with a 20-plus game losing streak. The San Antonio Spurs and the Philadelphia 76ers are two teams headed in very different directions and they continued on their paths Monday night as the Spurs easily defeated the Sixers, 113-91.
It is the 25th straight loss for Philadelphia which can now tie the record for the most consecutive losses, 26, when the team travels to Houston on Thursday. Cleveland established the NBA record for futility when it lost 26 consecutive games in 2011. The last time Philadelphia won a game was almost two full months ago when they defeated Boston, in Boston, by a score of 95-94.
Monday night was much of the same old Sixers as San Antonio's Austin Daye scored 22 points and veteran Tim Duncan added 19. San Antonio has now won 14 games in a row. They are the hottest team in NBA with a league-best 54-16 record. The Spurs have clinched a playoff spot and are two games ahead of Kevin Durant and the Oklahoma City Thunder in the Western Conference.
The Spurs had three other players in double figures. Kawhi Leonard and Patty Mills each had 15 points and Cory Joseph added 12. San Antonio won by 22 points and didn't even play three of its starters – Tony Parker, Danny Green, and Tiago Splitter – who each took the night off.
The Sixers, which have six rookies on their roster, got 17 points from leading scorer Thaddeus Young and 17 from one of those rookies, Michael Carter-Williams. Byron Mullens came off the bench to score 15 points and grab eight rebounds and Eliot Williams added 14 points.
Philadelphia is one of the youngest, most inexperienced teams in the NBA. Consider that Duncan, Parker, and the Spurs other long-time veteran, Manu Ginobli, have 39 years of professional experience. That would be seven more years than the entire roster of the Sixers has combined.
Should Philadelphia lose to Houston Thursday, they would be back at home on Saturday to face Detroit for a potential NBA record-breaking 27th straight loss.