Spurs Beat Thunder To Set Up NBA Finals Rematch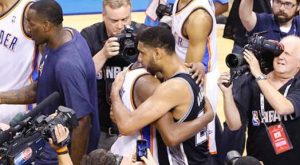 After losing a 12-point lead in the fourth quarter, San Antonio got a baseline jumper from Tim Duncan with 19 seconds left in overtime as the Spurs defeated the Oklahoma City Thunder, 112-107, to advance to the NBA Finals for the second consecutive year. The victory gave the Spurs a 4-2 victory in the Western Conference finals and sets up a rematch with the Miami Heat for the NBA title.
Duncan, who scored 19 points and had 15 rebounds, watched his shot rattle in with 19 seconds to play in OT giving the Spurs a 110-107 lead. The Thunder's Kevin Durant was able to get a good look at a 3-pointer, but it didn't fall. Oklahoma City immediately fouled Spurs leading scorer Boris Diaw (26 points) who hit 1-of-2 free throws to wrap it up for San Antonio.
It will be the sixth NBA Finals for San Antonio, which is 4-1 so far in finals history. They will face the Miami Heat, who defeated Indiana on Friday night 117-92, once again for a shot at the title. The Heat will be looking for a third consecutive NBA championship. The last team to win three straight was the Los Angeles Lakers in 2000, 2001, and 2002.
It was Diaw who came off the bench to shoot 8-of-14 from the floor, including 3-of-6 from 3-point range, to lead the Spurs. His production was crucial as San Antonio had to play the entire second half without point guard Tony Parker. Parker left the game with soreness in his left ankle.
Veteran Manu Ginobli wound up playing 33 minutes and didn't shoot all that well but he hit 6-of-7 from the free throw line, including a crucial one down the stretch in regulation. Ginobli also had six rebounds, five assists, and four steals. Kawhi Leonard added 17 points and 11 rebounds.
Durant, the league's regular season MVP, scored 31 points, grabbed 14 rebounds, and blocked three shots. His miss near the end of the overtime sealed the Thunder's fate. Teammate Russell Westbrook hit 17-of-18 free throws, including two to tie the game and send it to overtime, and led all scorers with 34 points. The Thunder point guard finished a remarkable series with eight assists, seven rebounds and six steals.
Oklahoma City will miss the finals for the second consecutive year since winning the title in 2012. Miami defeated the Spurs last season in seven games. San Antonio, by virtue of its higher seed, will have home court advantage. The NBA Finals gets underway Thursday night from the AT&T Center in San Antonio.
Most Recommended