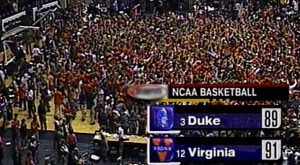 Junior guard Joe Harris played his best game ever scoring 36 points to lead Virginia to a 73-68 victory over No. 3-ranked Duke. The win gave the Cavaliers 20 wins on the season (20-8, 10-5 in ACC play) and the signature win that will put coach Tony Bennett's squad into the NCAA Basketball tournament for sure.
The UVA win was the school's first over a top five school in 11 years. It was the exact date 11 seasons ago that Virginia beat Duke, then ranked No. 5. Akil Mitchell added 19 points and 12 rebounds for the Cavaliers, who won their 16th consecutive home game. In the aftermath of the win, Blue Devils' head coach Mike Krzyzewski was concerned for his players. The Virginia fans rushed the floor immediately after the final buzzer sounded making it difficult for Krzyzewski, his staff and his players to get to the locker rooms.
The upset was just another of many as the college basketball season winds down and gets closer to the annual NCAA tournament. Starting on Sunday, No. 18 Ohio State defeated No. 4 Michigan State in Big Ten play and then on Monday, No. 22 Marquette beat No. 12 Syracuse, 74-71, in the Big East.
College basketball got wackier on Tuesday as Minnesota pulled one of the biggest upsets of the season knocking off No. 1 Indiana, 77-73, on their home court. That same night, No. 8 Florida fell to unranked Tennessee, 64-58. One night later, Penn State, winless in the Big Ten, pulled a shocker beating No. 4-ranked Michigan, 84-78, and USC upset No. 11 Arizona, 89-78.
There is still plenty of great basketball left in the regular season and still a few potential upsets brewing as this week ends. Duke, which was led by Seth Curry's 28 points in the UVA loss, will face No. 5 Miami on Saturday. The week ends with two big clashes in the Big East as well with No. 10 Louisville playing at No. 12 Syracuse and No. 21 Notre Dame squaring off with No. 22 Marquette.