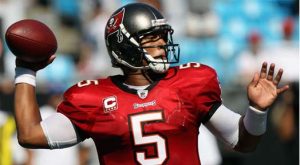 Just six weeks into the 2013 season and already the NFL QB carousel is beginning. Just last week, former Tampa Bay QB Josh Freeman was cut loose by the Bucs. There was talk of Freeman and his participation in the league's substance abuse program. Whatever the reasoning, head coach Greg Schiano had enough and Freeman was gone.
Now, Freeman might be a candidate to replace Christian Ponder in Minnesota or the injured E.J. Manuel in Buffalo. Manuel will reportedly miss four to six weeks with a sprained right knee that he suffered in last Thursday's loss to Cleveland. The Browns also lost their starter, Brian Hoyer, to a knee injury, but will return the QB job to Brandon Weeden and have no interest in Freeman.
In Minnesota with Ponder hurt, Freeman could content with Matt Cassel, who started in the Vikings only win of the season. It is likely Freeman will end up a Viking and give Minnesota the big arm that it desperately needs.
With Freeman in Minnesota, Buffalo head coach Doug Marrone may opt for practice squad QB Thad Lewis. Marrone feels Lewis will give Buffalo the best chance to win since he knows the system. A third-year pro out of Duke, Lewis spent the past two years in Cleveland and lost in his only start, a loss to Pittsburgh last season.
During the fourth quarter of Sunday night's game, Houston Texans head coach Gary Kubiak benched starter Matt Schaub in favor of backup T.J. Yates. Schaub had thrown his third interception of the game and it was returned for a TD to give San Francisco a commanding 34-3 lead. For Schaub, it was the fourth straight game in which he threw a pick that was returned for a TD, an NFL record. Still, Kubiak will stick with his veteran QB and Schaub remains the starter as the Texans face St. Louis next week.
As the NFL season just finished its first quarter and heads to the second, it will be interesting to see how many other quarterbacks will win/lose jobs. It will also be interesting to see if any of these so-called "no-name" QBs, like Lewis, can step up and answer the call of duty.