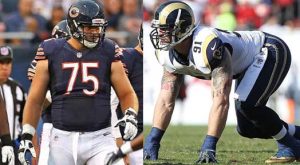 The NFL's Long brothers, Chris and Kyle Long, sons of Hall of Famer Howie Long, have never played on the same field together. That is, until Sunday. Chris, a defensive end for the St. Louis Rams, and Kyle, an offensive lineman for the Chicago Bears, will square off against each other Sunday as the two teams meet in the Edward Jones Dome in St. Louis.
Father Howie was an All-Pro defensive end for the Oakland (and Los Angeles) Raiders. During his 13-year career with the club, he was an eight time Pro Bowler and helped lead the Raiders to a victory in Super Bowl XVIII. He would finish his career with 91.5 sacks and in 2000 was elected to the Pro Football Hall of Fame.
Long's first son, Chris, played for Al Groh at the University of Virginia where, as a senior, he was a unanimous first-team All-American. That year, Long recorded 79 tackles, 14 sacks, and was the ACC Defensive Player of the Year. As a result of his stellar college career, Long was drafted second overall in the 2008 NFL Draft. He became the second son of a Hall of Famer to be drafted in the first round (Kellen Winslow II being the other).
The eldest Long has not disappointed as a pro. He made the NFL All-Rookie team after starting 16 games. Last season, Long led the Rams with 11.5 sacks and, through 10 games this season, he is 6.5.
Chris would love to add a few more to that number, but he will have to deal with a Bears offensive line that features his younger brother, Kyle. The younger Long, who was drafted by the Chicago White Sox in the 2008 MLB Draft, began his college career at Florida State, but wound up at Oregon in 2011. He started 10 of 12 games during the 2012 season and was drafted in the first round of this year's draft by Chicago.
Kyle became the first rookie ever (during the Super Bowl era) in Bears history to start a season opener at guard. With 10 games under his belt, he will now have to contend with an improving Rams defense led by brother, Chris.
Kyle's Bears are coming off a big overtime win over Baltimore a week ago while Chris's Rams stunned Indianapolis, 38-8. It's a crucial game for both teams. For St. Louis to remain in contention for a playoff berth, they have to find a way to win. For Chicago, they need to keep pace with Detroit, with whom they are tied for the NFC North lead.