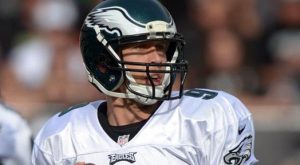 Philadelphia Eagles QB Nick Foles tied an NFL record by throwing seven touchdown passes in a 49-20 win over Oakland and Gary Kubiak, Houston Texans head coach, collapsed at halftime during the Texans game with Indianapolis and was rushed to a Houston-area hospital.
Kubiak, 52, started to go to the locker room for halftime but fell to the turf near the sideline. He was attended to for several minutes and then taken to the hospital. Kubiak was conscious the entire time and, according to hospital officials, did not have a heart attack. He remains in the hospital where he is undergoing tests.
Wade Phillips assumed the Texans' interim head coach as Houston built a comfortable 21-3 halftime lead. Then, Colts QB Andrew Luck and WR T.Y. Hilton took over. Luck threw TD passes of 10, 58, and 9 yards to Hilton, the final one coming with four minutes to play and Indianapolis went home with a 27-24 win.
Kubiak is the second NFL head coach to suffer a medical problem over the weekend. On Saturday, Broncos head coach John Fox was rushed to a Charlotte, NC, hospital after becoming dizzy on a golf course. Fox will have surgery to replace an aortic valve sometime this week.
Earlier Sunday, Foles, the second-year QB out of Arizona, dissected the Raiders defense with seven TD passes and he did it in three quarters of play. Foles hit WR Riley Cooper with a five-yard scoring strike with 4:28 left in the third quarter for his seventh touchdown. Foles went 22-for-28 for 406 yards and did not throw an interception. Foles now shares a piece of the NFL record for most TD passes in a game, a record that Broncos QB Peyton Manning also tied earlier this season.
Elsewhere around the league, the Kansas City Chiefs remained unbeaten with a 23-13 win over Buffalo. Tampa Bay almost got its first win of the season, but couldn't hold on to a 21-0 lead. Seahawks QB Russell Wilson threw a 10-yard TD pass to Doug Baldwin with 1:51 to play to tie the game at 24-24 and Steven Hauschka ended it with a 27-yard field goal in overtime for the win.