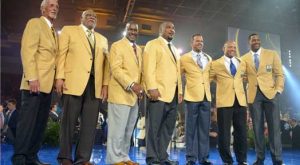 Seven legends in the game of professional football were inducted into the Hall of Fame Saturday night. It was part of the Hall's weekend festivities that includes the NFL's opening preseason contest. Former New York Giants defensive end Michael Strahan closed the ceremony with an entertaining and riveting speech about improbability and his winding up in the Hall of Fame.
Strahan, now part of Live With Kelly & Michael the daily morning talk show, thanked his family, former players, coaches, and many more in a speech that ended just around midnight, about two hours after the induction ceremony was scheduled to end. Strahan played his entire 15-year NFL career in New York and ended up fifth on the all-time sacks list with 141.5.
The induction ceremony started with Derrick Brooks, the former Tampa Bay linebacker, who was one of the league's best for 14 seasons. Brooks was a first-team All-Pro five times and selected to the Pro Bowl in 11 of his 14 seasons. It was the first year Brooks was eligible for election to the Hall.
Long overdue to the Hall of Fame were 1970s stars Ray Guy and Claude Humphrey. Humphrey played defensive line for 13 seasons for both Atlanta and Philadelphia. He was the 1968 NFL Defensive Rookie of the Year and went on to claim five first-team All-Pro selections and played in six Pro Bowls. Guy, the first punter to be enshrined, was a seven-time Pro Bowler and regarded by many as the greatest punter of all time.
Aeneas Williams was a third-round draft pick in 1991 having played just two seasons of college football. In fact, Williams didn't play at Southern University until his junior year. That season, he tied the NCAA Division I-AA for most interceptions in a season. Williams went on to play in eight Pro Bowls and was a first-team All-Pro at cornerback in four seasons.
Long-time Seattle Seahawks offensive lineman Walter Jones manned the left tackle slot for 13 years and is considered to be the best of all-time at the position. Jones was a six-time first-team All-Pro and played in nine Pro Bowls, including eight consecutive between 2001 and 2008. Jones started every game that he ever played in and, like Brooks, was elected to the Hall in his first year of eligibility.
The highlight of the night, and there were many, may have been former Buffalo Bills wide receiver Andre Reed's speech. Reed was inducted by his former teammate, quarterback Jim Kelly. Reed went on to catch a ball thrown by Kelly, who has been battling cancer for over a year now. Emotions were high as the two former greats, and now fellow Hall of Famers, enjoyed a long embrace.