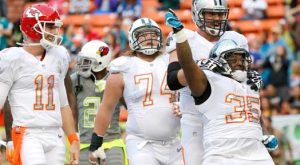 Former NFL Defensive Player of the Year and Super Bowl champion Derrick Brooks heads up the finalists to be named to the NFL Pro Football Hall of Fame's 2014 induction class. The 15 finalists were announced Thursday evening.
Along with Brooks, who was a nine-time All-Pro linebacker with Tampa Bay, Tony Dungy, who coached Indianapolis to a Super Bowl championship in 2007, and Marvin Harrison, a wide receiver who played for Dungy, were part of the 15 modern-era finalists.
To be eligible for induction into the Hall of Fame, any player or coach must be five years removed from their last appearance in the league. There is a selection committee made of 46 members which will vote on Feb. 1 to determine which players will be inducted into the hall this August.
Other finalists include running back Jerome Bettis and linebacker Kevin Greene, who both played for the Pittsburgh Steelers. In 1996 at the age of 34, Greene led the NFL with 14.5 sacks becoming the oldest player to ever do so. Bettis retired as the sixth-leading rusher of all-time.
Michael Strahan, now a TV personsality, was selected as a finalist for his play as a defensive end for the New York Giants. Former Cowboys and 49ers linebacker Charles Haley, wide receiver Andre Reed, wide receiver Tim Brown, and offensive tackle Walter Jones were also named finalists. Safety John Lynch, defensive back Aeneas Williams, guard Will Shields, kicker Morten Andersen, and Eddie DeBartolo Jr., the former 49ers' owner, rounded out the 15 finalists.
The committee also chose former Atlanta Falcons defensive end Claude Humphrey and former Oakland Raiders punter Ray Guy as senior nominees. If Guy is selected for induction, he would become the first punter ever enshrined in the Hall of Fame. If Andersen makes it, he would be just the second kicker to make it. Former Kansas Chiefs kicker Jan Stenerud was the first.
Former coaches Don Coryell and Jimmy Johnson, as well as former league commissioner Paul Tagliabue were among those that did not make the cut.