Warren Sapp Doesn't Think Michael Strahan Belongs In The Hall Of Fame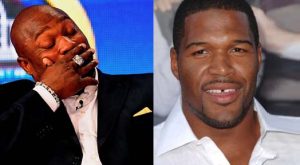 Former Tampa Bay defensive tackle Warren Sapp, a Hall of Famer himself, does not think former New York Giant Michael Strahan is worthy of induction into the Pro Football Hall of Fame. Sapp isn't afraid to voice his displeasure with Strahan's nomination either.
At the Super Bowl's media day, Sapp, an analyst for the NFL Network, continued to bash Strahan, who was nominated along with a well-deserving group of former players and coaches. Sapp does not think that Strahan's resume stacks up against the likes of former Colts head coach Tony Dungy, former Colts receiver Marvin Harrison, former Seahawks offensive lineman Walter Jones, or former Tampa Bay linebacker Derrick Brooks.
Sapp has never liked the fact that Strahan set the NFL's single-season sack record with 22.5 in 2001. He believes that Green Bay QB Brett Favre took a dive on the play which gave Strahan the record. Regardless, Strahan, who spent his entire 15-year NFL career with the Giants, is up for induction this year.
The former Giant has found himself a new career, one that has made him even more famous than he was. He works opposite Kelly Ripa on the ABC morning talk show "Live with Kelly and Michael." He also is on Fox Sports' Sunday NFL pregame show and between the two programs has had little time to think about getting into the Hall of Fame.
While Sapp doesn't think that Strahan stacks up against the competition, he might want to re-think it. Sapp, who was inducted into the Hall last year, was a seven-time Pro Bowl selection and a four-time first-team All-Pro. He won one Super Bowl and was the AP Defensive Player of the Year in 1999. He was also a second-team All-Pro in his first two years in the league. He ended his career with 96.5 sacks.
By comparison, Strahan was, ironically, a seven-time Pro Bowler. Surprisingly, he was a four-time first-team All-Pro, a second-team All-Pro two times, and won one Super Bowl. He was the AP Defensive Player of the Year in 2001 when he set the sack record. In addition to holding the single-season sack record, he is also the Giants all-time leader with a career total of 141.5.
Funny, but it appears that Strahan does indeed stack up. Fans will know soon enough. The 2014 induction class will be announced after the selection committee meets this Saturday before the Super Bowl.
Most Recommended