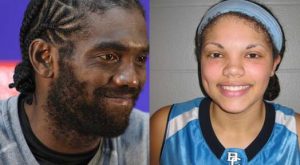 With 63 points in a win over Waynesburg (Pa.) University on Friday night, Sydney Moss set the NCAA Division III women's basketball record for the most points in a single game. Moss, who plays for Thomas More College, just happens to be the daughter of former All-Pro wide receiver Randy Moss.
Moss broke the record by hitting a pair of free throws with 18 seconds to play as the Saints cruised to a 106-88 victory in the President's Athletic Conference tournament. Thomas More is now 27-0, ranked fourth in Division III in the nation, and will face Washington & Jefferson College on Saturday in the league tournament's championship game.
A big reason why the Saints are unbeaten is the 5-foot-11-inch Moss. She was Miss Basketball in the basketball-crazed state of Kentucky as a senior at Boone County HS. Her performance earned her a Division I scholarship to play at the University of Florida, where she enjoyed her time on the floor but not so much off of it.
Moss didn't transfer because of a lack of playing time, as many Division I athletes do. The Lady Gators advanced to the WNIT semifinals last year largely because Moss scored 19.6 points a game. She also led the team in rebounding (9.0 per game), assists (4.0 per game), and shot 57 percent from the floor.
But Moss didn't like the way she was treated. In fact, when her grandmother, who practically raised her, fell ill during the season, the coaching staff would not grant her time off to visit her. She would not see her again until she attended her funeral.
That's when Moss decided it was time to call an old high school friend and learn more about Thomas More, a small school located in Crestview Hills, Kent., just about 10 minutes from Cincinnati, Oh. While the school, like other Division III schools, does not offer athletic scholarships, it does offer Moss something she didn't have at Florida. A home.
Moss scores 27.3 points and grabs 8.0 rebounds per game all while shooting 62 percent from the field. Maybe the most amazing thing is that she does all that and plays just 26 minutes per game.