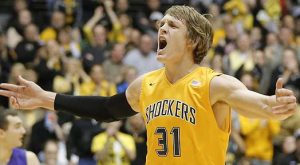 It has been several years since any team has won 30 games without losing in men's NCAA Basketball Division I. In fact, no team had ever done it until Tuesday night when the Wichita State Shockers ran their record to 30-0 with a 69-49 win over Bradley.
Ron Baker led the second-ranked Shockers with 15 points and four others scored in double figures as Wichita State became the first team in Division I history to go 30-0 in a regular season. The last team to reach that mark was UNLV back in 1990-91 when they went 34-0 and lost to Duke in the national semifinals. Nine other teams have reached 30-0, but all hit that mark in the postseason.
Wichita State can finish the regular season unbeaten on Saturday with a win over Missouri State (19-10, 9-8). With a win, the Shockers would be the first team to finish the regular season unbeaten since St. Joseph's back in 2003-04.
Head coach Gregg Marshall's squad held a 10-point halftime lead against Bradley and then broke it wide open in the second half with a number of three-pointers. During one stretch, the Shockers got consecutive three-pointers from Fred VanVleet, one from Cleanthony Early, and two from Baker to build an 18-point lead.
Tekele Cotton (13), Early (12), and VanVleet (11) were the other Shockers in double figures. Bradley was led by Walt Lemon who scored 18 points. The Braves (12-18, 7-10) shot a dismal 27 percent (16-of-59) for the game and hit only 4-of-14 from behind the three-point arc.
Wichita State now matches the highest ranking, No. 2, in school history. The 1981-82 team, led by Antoine Carr and Xavier McDaniel, was also ranked as high as No. 2. The Shockers face Missouri State Saturday and will then head to the Missouri Valley Conference tournament where they will be the No. 1 seed.