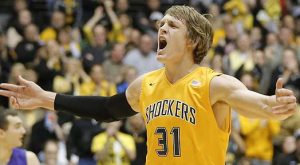 It has been a decade since a men's college basketball team finished the regular season unbeaten and no team had ever finished a regular season unbeaten with over 30 wins. That is, until Saturday.
No. 2-ranked Wichita State defeated Missouri State 68-45 in front of their home crowd to become the first team in NCAA Division I men's basketball history to complete a regular season at 31-0. The Shockers clinched the top seed and a bye in the upcoming Missouri Valley Conference tournament, which begins next week.
The last team to make it through a season undefeated was the 2004 St. Joseph's Hawks, which finished 24-0. At 31-0, the Shockers have the best start to a season since 1991 when UNLV was 34-0 and lost in the national championship.
Missouri State, which gave Wichita State the closest thing to a shock this year, was never in this one. Cleanthony Early scored 19 points and guard Ron Baker added 13 for the Shockers who jumped out to an 18-point halftime lead. Head coach Gregg Marshall's squad jumped out to a double-digit lead early in the game and the Shockers defense just smothered Missouri State.
The Bears shot just 31 percent (16-of-51) from the floor and didn't fare much better at the free throw line (56 percent). Forward Jarmar Gulley was the lone bright spot, the only Missouri State player in double figures with 15 points.
It was a much different game this time around than the one at Missouri State on Jan. 11. The Bears held a 19-point lead in the second half, but the Shockers mounted a furious comeback and sent the game to overtime where they eventually won, 72-69.
The last team to finish the Missouri Valley Conference season unbeaten was Bradley back in the 1985-86 season. The 31-0 start is also the best in league history since 1979 when Larry Bird led Indiana State to 33 straight wins before losing to Michigan State in the national title game.