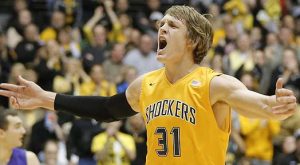 After winning 34 straight, Wichita State's dream run toward an unbeaten NCAA title came to end Sunday with a 78-76 loss to No. 8 seed Kentucky. The talented freshmen of the Wildcats were just too much for the Shockers, who proved to the nation that they were well-deserving of a No. 1 seed.
Kentucky's twins, Andrew and Aaron Harrison, combined for 39 points, and 6-foot-9 Julius Randle hit a couple of key free throws down the stretch to preserve the victory. Still, head coach Gregg Marshall's Shockers had a chance to win it at the end. Wichita State inbounded the ball to point guard Fred VanVleet with three seconds to play. VanVleet got a decent look at the basket, but his three-point attempt was way off and the Shockers became the first No. 1 seed out of the tournament.
The other top seeds advance to the Sweet Sixteen. All three won easily in the Round of 32. Arizona defeated Gonzaga 84-61; Florida beat Pittsburgh 61-45; and Virginia took care of Memphis 78-60. It's the first time the Cavaliers have been to the Sweet Sixteen since 1995.
The biggest surprises of the 16 teams remaining in the tournament are Dayton and Stanford. Dayton beat Ohio State and then upset No. 3 Syracuse to advance. The Flyers, the 11th seed, are experienced and are 12-0 when holding teams to under 60 points. No. 10 seed Stanford beat New Mexico in their opening game and then upset No. 2 Kansas, 60-57. The Cardinal qualified for their first NCAA tournament under coach Johnny Dawkins and took advantage making it to the Sweet 16 for the first time since 2008.
Kansas and Villanova, a 77-65 loser to Connecticut, are the No. 2 seeds that have been eliminated. Michigan State, a favorite of many to win the East Region and get to the Final Four, will face No. 1 Virginia next Friday night. The Spartans' in-state rival, Michigan, advanced to the Sweet 16 for the second consecutive season with a 79-65 win over Texas. The Wolverines will get the other big surprise of the tourney – Tennessee.
The Vols won three games in five days to become the third team to play in the First Four and qualify for the Sweet Sixteen. They have won all three games handily, defeating Iowa, UMass, and Mercer by double digits.
The Tennessee win over Mercer gives the SEC three teams in the Sweet Sixteen. The Vols, No. 1 overall seed Florida, and Kentucky, with its upset of Wichita State, are all in the final 16. The Pac-12, surprisingly, also has three teams remaining – Arizona, UCLA, and Stanford.
Tournament play continues next Thursday through Sunday when the field will be whittled down to the Final Four.