Ray Rice Wins Appeal Teams Showing An Interest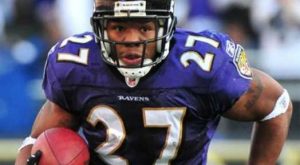 After being suspended by the National Football League for his role in a domestic abuse case, Ray Rice, formerly of the Baltimore Ravens, won his appeal hearing and is now eligible to sign with an NFL team. Rice, of course, made national news back in February of this year when a surveillance video surfaced of him dragging his unconscious then-girlfriend out of an Atlantic City casino. It was later determined that Rice had struck the woman, now his wife Janay Rice.
Rice appealed the suspension that was handed down by the league on Sept. 8. The six-year pro was suspended by league commissioner Roger Goodell for a violation of the league's personal conduct policy. Initially, Rice was to miss two games, but under intense scrutiny and pressure, Goodell amended the suspension to one of an indefinite length.
The three-time Pro Bowl running back was released by the Ravens earlier this year. With his reinstatement to the league, he can now sign with another team. It is reported that as many as four teams are interested in Rice, but time will tell. Will teams really want to deal with the baggage that will come with signing the former Rutgers University star?
It was reported that Indianapolis and New Orleans both had some interest in Rice; however, according to sources around the league neither team will sign him. Should Rice sign with a team prior to the end of this season, it would most likely be a postseason contender that has had some injuries problems in its backfield. Any team that signs Rice would also have to have the right personnel that can deal with the media blitz that would surely follow.
While Ray Rice surely has a few good years left, his time may be running out. In January, he will turn 28 and has not played a down since the end of the 2013 season. Other than his rookie year in 2008, that 2013 season was Rice's worst. He averaged just 3.1 yards a carry and failed to gain over 1,000 yards for the first time since2009.
Most Recommended