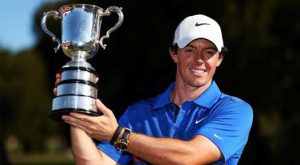 Rory McIlroy captured his third major championship with a final round 71 to give him his first British Open title. McIroy held of Sergio Garcia and Rickie Fowler who both tied for second finishing two strokes behind the leader.
McIlroy becomes just the third player in the history of the game to win three Major championships by the age of 25. The other two? Jack Nicklaus and Tiger Woods. McIlroy won the U.S. Open in 2011 and the PGA Championship in 2012. The victory will move him to No. 2 in the overall world rankings.
The Northern Ireland native led from the beginning to the end, opening competition with a back-to-back rounds of 66 for the early lead. Garcia and Fowler made the final round exciting. Garcia shooting 66 with Fowler at 67. Garcia looked like he had the best shot to overtake the leader when he was two strokes down with four holes to play, but his first shot on No. 15 went into the bunker to the right of the green.
Fowler played in the final group and was never closer than three strokes until the final hole. The wire-to-wire victory for McIlroy marks the first time that it has happened in consecutive major events. Just last month, Martin Kaymer won the U.S. Open at Pinehurst by eight shots and led from start to finish.
While McIroy enjoyed the spotlight, Woods finished the most disappointing major tournament of his career. His fourth round 75 left him in 69th place. He did fare a little better than Kaymer, who finished two shots behind Woods.
It was Woods second tournament since undergoing back surgery on March 31. He still believes he can compete and help the U.S. win the Ryder Cup in September and has begun lobbying Captain Tom Watson already.
McIroy will have a shot at a fourth major in August. The PGA Championship begins on Aug. 7 from Valhalla Golf Club in Louisville, Kent.