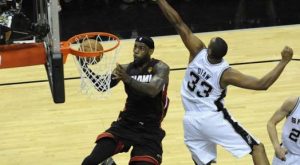 It's easy to hate the Miami Heat and gloat now that the San Antonio Spurs have dethroned the two-time champs with a 104-87 victory in Game 5 Sunday night. The Spurs turned the NBA Finals rematch into a display of dominance with four solid double-digit wins.
Heat Haters, it's ok... They are just that good
Miami defeated San Antonio last year in seven games to claim their second consecutive NBA title and draw the ire of many NBA fans around the country. So called heat haters point to the acquisition of the Big Three, LeBron James, Dwayne Wade, and Chris Bosh, their huge salaries, and the fact that they are just good.
Many of those haters are no doubt enjoying San Antonio's dominating performance in this year's finals. After the Heat jumped out to a huge 16-point lead in the first quarter of Game 5, the Spurs regrouped and outscored Miami 37-13 over the second quarter and into the second half.
NBA Finals MVP Kawhi Leonard led San Antonio with 22 points, including 3-of-4 from 3-point range, and 10 rebounds. Veteran guard Manu Ginobli added 19, including a thunderous driving dunk during the Spurs run in the second quarter. Tony Parker added 16 points and Tim Duncan had 14 points and eight rebounds.
Be nice to LeBron James, love or hate he is just the best
Miami Heat haters also love to pile it on LeBron James. While his team didn't fare so well in this series, it is hardly the fault of the world's best player. James did his part averaging 27.5 points per game and shooting 60 percent from the floor for the series. He led the Heat in Game 5 with 31 points and 10 rebounds. He also had five assists and blocked two shots.
James surely did his part; he just didn't have much of a supporting cast. Bosh and Wade were the only other Heat players to score in double figures. Bosh had 13 points while Wade had 11 on just 4-of-12 shooting. Sharpshooter Ray Allen hit just 1-of-8 from the floor and scored only five points.
They won't last forever, it's time to find a new team to hate
Now that the Heat have fallen, it's time for the haters to move on. The Heat dynasty has given way, at least for a season, to that of the Spurs, who have now won four titles in the past nine seasons. Duncan and Spurs head coach Gregg Popovich have been around for all five of the Spurs championships. And the Spurs have their own Big Three with Duncan, Ginobli, and Parker. Maybe now with their championship, the Spurs Big Three will take some of the heat off of the Heat.