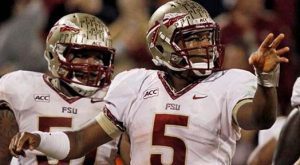 There was little surprise that Alabama was perched atop the 2013 season's first Bowl Championship Series BCS poll. The big surprise was at No. 2.
Florida State, by virtue of its huge 51-14 win over Clemson, is ranked second, not the Oregon Ducks, who many presumed would be the new No. 2. The Seminoles, now 6-0, got the nod over Oregon thanks to the computer rankings which had FSU ranked No. 1.
Oregon comes in at No. 3 and Ohio State, winners of 19 games in a row, is ranked fourth. Another of the big surprises clocks in at No. 5 – Missouri. The Tigers have claimed back-to-back big SEC wins, last week over Georgia and this week over Florida. Gary Pinkel's squad gets another test next week when they face No. 21 South Carolina, which was upset by Vanderbilt on Saturday.
Stanford, ranked No. 6, is the highest ranked one-loss team. The Cardinal defeated No. 12 UCLA Saturday after being upset by Utah the previous week. Unbeaten Miami and Baylor sit at No. 7 and No. 8, respectively, while Clemson, reeling after the Florida State loss, comes in at No. 9. Texas Tech and new coach Kliff Kingsbury have quietly built a solid 7-0 record and the BCS 10th-ranked team in the country.
Fresno State, at 6-0, is ranked 17th and Northern Illinois and its dynamic QB Jordan Lynch are the nation's 18th-ranked and are 7-0. These two teams plus the eight unbeatens in the top ten are the country's final ten teams without a loss.
LSU, after its 27-24 loss to Mississippi Saturday night, became the highest ranked two-loss team. The Tigers are No. 13 in the BCS poll. The SEC, which set a record last week with eight teams ranked in the AP poll, is now down to six. Previously ranked Georgia and Florida both fell out of the rankings and were left out of the first BCS poll. Auburn achieved its highest ranking since their national title in 2010 entering at No. 11 after their 45-41 win over Texas A&M. The Aggies, now 5-2, are ranked No. 16.
Louisville was upset on Friday night by Central Florida, 38-35. The Cardinals, which had been in the AP top ten all season, were ranked 20th in the BCS poll. That is significant since they are the highest ranked team from the new American Athletic Conference. Non-qualifying conferences like the MAC or the Mountain West can wind up with a team in a BCS bowl if ranked higher than the AAC's top-ranked team. Both Fresno State and Northern Illinois are ranked higher than Louisville currently.
This is the final year of the BCS system. The poll is developed based on rankings from the USA Today and Harris polls as well as from computer rankings.