Thanksgiving and Football – An American Tradition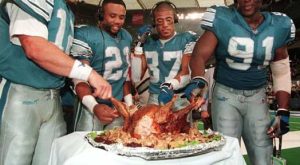 When the first Thanksgiving took place in 1621, the settlers of the Plymouth colony and their Native American friends gathered to celebrate the year's harvest. There was nothing that even resembled the game of football at the time, so how did Thanksgiving and football become such an American tradition?
Thanksgiving was not even an American tradition until George Washington issued his Thanksgiving Proclamation in 1789. Even then, the idea never really stuck and a day of Thanksgiving was not celebrated by the nation.
During the Civil War, Abraham Lincoln declared that the last Thursday of 1863 would be Thanksgiving Day. The nation would celebrate and give thanks. At the time, the game of football still did not exist.
In 1874 the first intercollegiate football game was played – between Princeton and Rutgers – and by 1876 the Intercollegiate Football Association was playing a championship game. That game was to be played on Thanksgiving Day. It slowly became a premier event in the United States.
By the 1890s the game was drawing 40,000 fans at the Polo Grounds in New York City. Football began to grow and before the turn of the century, more than 5,000 Thanksgiving Day football games were being played around the country.
The National Football League, founded in 1920, decided to follow suit. As the league became more popular in the 1950s with the advent of television, one team owner had an idea. George Richards had bought the Portsmouth (OH) Spartans in 1954. He promptly moved the franchise to Detroit and renamed the team the Lions.
Richards decided that the Lions would play the Chicago Bears that year on Thanksgiving Day. He owned a radio station and arranged for the game to be broadcast on 94 different stations around the country. The game was a success, drawing 25,000 fans plus a nationwide radio audience. Lions' football on Thanksgiving Day was born.
Up until 1963, the Lions played the Green Bay Packers every Thanksgiving. When the NFL merged with the American Football League (AFL) in 1970, a second Thanksgiving Day game was instituted. The game would be played in Dallas, which had become America's team, and would be televised by a different network.
As we gather with family and friends this Thanksgiving Day, we may watch today's games from Detroit and Dallas. We may also note that a third game will be played. To meet growing demand and the programming demands of the NFL Network, a third game was added to the Thanksgiving menu. Tonight's game is an AFC North battle between Super Bowl champion Baltimore and the Pittsburgh Steelers.
No matter how many Thanksgiving Day football games there are, the tradition of football on this day will continue for many years to come. Give thanks today for a great American tradition.
Most Recommended