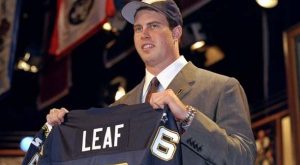 With the NFL Draft slated to start this Thursday, teams are making their last-minute preparations to insure their choices become productive. Selecting players to fill a roster in an effort to get to a Super Bowl is an inexact science and one of the reasons there is so much emphasis on pre-draft tests and research. Even though teams put in endless hours researching their potential draft picks, there will be those NFL draft busts somewhere that just doesn't pan out.
Throughout the history of the NFL, there have been many draft "busts." Take Russell Erxleben, for example. Erxleben was an All-American kicker out of Texas who had hit a 67-yard field goal during his career. The New Orleans Saints thought Erxleben worthy of a first-round draft choice - unheard of for a kicker - and selected him with the 11th overall pick in the 1979 draft. The former Longhorn suffered through some injuries, played four years in the NFL, and made four career field goals.
Charles Rogers was a big, physical wide receiver out of Michigan State that the Detroit Lions drafted with the second pick in the 2003 draft. Rogers suffered season-ending injuries his first two years with the Lions and then failed a drug test in 2005. He was suspended for the first four games of that season and then was released by the team the following year.
Another second-pick failure was Tony Mandarich, ironically another product of Michigan State. Mandarich was a huge (6-6, 315) offensive tackle who had graced the cover of Sports Illustrated and was known for his bad attitude and steroid use. He was the second player selected in the 1989 draft and the first offensive lineman to ever earn a $1 million salary. Green Bay soon figured out that he was not worth it and cut him after three seasons. They may have fared better in the '89 draft with Barry Sanders, Derrick Thomas, or Deion Sanders all selected after Mandarich and all in the Hall of Fame.
Most will agree the two biggest busts in NFL draft history are JaMarcus Russell and Ryan Leaf. Both were very good college quarterbacks that produced wins and had all the physical skills that NFL teams covet. In 1998 after Indianapolis selected Peyton Manning, the San Diego Chargers took Leaf, a product of Washington State. In three years Leaf threw a total 14 touchdown passes and 36 interceptions. Russell was the first pick in the 2007 draft. At 6-foot-6, 250 pounds, he was billed as the savior for the Raiders after signing a six-year, $61 million contract. Russell struggled with his weight and never grasped playing QB in the NFL. He went 7-18 in three years as a starter and was out of football by 2010.
As the draft approaches, organizations will continue poring over the data. They will leave no stone unturned and work to make the best choices possible. But, as in year's past, there just might be a bust among the potential draftees in the 2013 NFL draft.