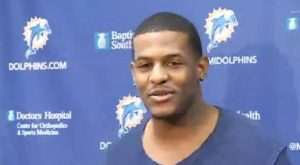 With the official beginning of the 2013 season on Tuesday, the NFL free agent hunt began with some big names, including the Steelers' James Harrison and Eagles' CB Nnamdi Asomugha, have still yet to find a new team.
Mike Wallace, who was a long-term holdout last year in Pittsburgh, was one of the first big signings winding up with the Miami Dolphins along with former Ravens' LB Dannell Ellerbe. Wallace brings big-play ability to the Dolphins' offense and Ellerbe will replace the departed Karlos Dansby.
Along with Ellerbe, the Super Bowl champions have lost some key players from last season's roster including veteran LB Ray Lewis and center Matt Birk both of whom retired at season's end. Linebacker Paul Kruger has signed with the Cleveland Browns. Wide receiver Anquan Boldin was traded to the Ravens' Super Bowl opponent, the San Francisco 49ers and veteran safety Ed Reed may wind up in Houston.
In one of the most anticipated free agent moves, former Patriots' wide receiver Wes Welker signed a two-year, $12 million deal with the Denver Broncos. Welker has led not only the Patriots, but the entire NFL, in receptions over the last five seasons. He'll give QB Peyton Manning another target in the Broncos' high-powered offense.
Several teams were in the market for a top-notch running back and the Detroit Lions added a good one in Reggie Bush. Bush played five seasons in New Orleans before playing in Miami the past two years. Bush gives the Lions a legitimate speed back who is also a great receiver out of the backfield. Bush and Lions agreed to a four-year contract with the terms not yet available.
Other big-name backs to sign with other teams include Rashard Mendenhall who reunites with Bruce Arians (former Steelers offensive coordinator) in Arizona and Shonn Greene who signed with Tennessee.
There are still several big-name players available including the aforementioned Harrison, a four-time All-Pro who was released by Pittsburgh on Monday. The best QB on the market is probably Ryan Fitzpatrick, a former Bill's starter or possibly Matt Cassell, who was released by Kansas City following the signing of Alex Smith. If Cassell could return to his 2010 form, when he led the Chiefs to the playoffs, he could be a great addition. The Minnesota Vikings appear to have interest in obtaining Cassell.
Other big names include wide receivers Greg Jennings, Randy Moss, Braylon Edwards, and the Raiders' Darrius Heyward-Bey. Tight ends Dallas Clark and Kellen Winslow are on the market as as a slew of defensive ends including Dwight Freeney, John Abraham, and Osi Umenyiora. Cliff Avril found a home in Seattle and a guy like Connor Barwin, who is under everyone's radar, would be a steal for a team looking for a great edge rusher.