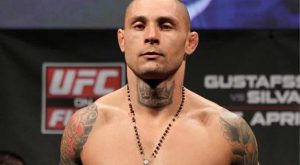 UFC fighter Thiago Silva was fired on Friday as a result of an incident that led to his arrest on Thursday. The light heavyweight is still in police custody after being arrested on charges of attempted murder and aggravated assault.
Silva reportedly was involved at an altercation at Pablo Popovitch Mixed Martial Arts Academy in Oakland Park, Fla. Silva, who is separated from his wife Thaysa, confronted her Thursday outside of the gym. He allegedly pulled out a firearm and was going to go into the gym and start shooting the place up.
Popovitch, the gym owner, eventually called 911 and Silva, who was intoxicated at the time, drove off to his home in Fort Lauderdale. Police went to Silva's home where the UFC fighter had barricaded himself. The result was a non-violent stand-off. Police did eventually use a taser on Silva to subdue and arrest him.
The Silvas have had marital problems since 2012. Late in the year, the couple separated, but Thiago was still living with his wife in their home in Oakland Park. Late last year, Thaysa became concerned for her safety and eventually went to court and got a restraining order against Thiago in January of this year.
Police were called to the Oakland Park home where Thaysa still resides on Jan. 30. Apparently, Thiago showed up and threw Thaysa down on a couch. He allegedly pulled out a pistol and put it in her mouth. Just a few days ago, Thaysa called 911 once again after receiving text messages from Thiago stating that he was going to have her killed.
Thanks to his attorney, Silva will face charges of aggravated assault, aggravated battery, and nonviolent resistance of arrest. Silva, who debuted in UFC in 2007, was set to fight Ovince St. Preux on March 15 in UFC 171. UFC president Dana White terminated the contract of Silva and said that he will never fight again in UFC.