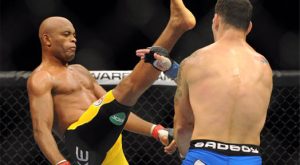 Ronda Rousey the bantamweight women's champion defeated her rival Miesha Tate by submission and Chris Weidman won by technical knockout in the 2nd round, defeating the legend, Anderson Silva, at UFC 168 from the MGM Grand Garden Arena in Las Vegas Saturday night.
Rousey battled Tate for two rounds and a little less than a minute into the third round was able to take down the former champion. She gained control and Tate (13-5) tapped out 58 seconds into the round. Rousey, the first female to ever win a medal in Olympic judo for the United States, won her eighth straight fight by using the armbar technique. This was the first fight of her career that went past the first round.
Both fighter threw a flurry of punches in the first round. Tate landed several big punches, but Rousey was able to take down Tate on several occasions. Rousey attempted to lock Tate in triangle, but the veteran fighter was able to escape. She wasn't able to get out of Rousey's grasp in the third round, though.
Rousey holds on to her bantamweight title and will defend it once again next February when she will face Sara McMann at UFC 170, which will also be held in Las Vegas.
The men's portion of UFC 168 ended surprisingly, and unfortunately, with a TKO in the second round for defending champ Weidman. At the 1:16 mark of the round, Silva threw a kick with his left leg that Weidman checked with his right knee. Silva immediately went to the floor in pain and the fight was promptly ended by Herb Dean, the veteran UFC referee. Silva's shinbone appeared to snap in half from the force of the blow.
It was an abrupt end to the fight and may likely be the end of one of the most storied careers in all of UFC history. Silva, who lost to Weidman back in July at UFC 162, is 38 years old and will have surgery to repair his broken leg. There is a possibility he could come back, but the UFC all-time great may never be the same.
It was the first time in his career that he lost consecutive matches. Prior to the first meeting with Weidman, Silva won a UFC record 16 matches in a row. Wiedman, who is now 11-0, will most likely take on Vitor Belfort, the top-ranked middleweight contender, in his next title defense.