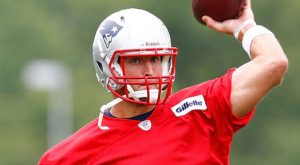 New England Patriots' third-string quarterback Tim Tebow survived the NFL's mandatory roster cut down to a maximum of 75 players on Tuesday. Tim Tebow, the former Heisman Trophy winner and much-maligned NFL QB, has struggled this preseason. He will see plenty of playing time in the Patriots final preseason game this Thursday against the New York Giants.
Some of the bigger surprises among the cuts were New York Jets RB Joe McKnight and WR Braylon Edwards. Edwards was re-signed this year to give the Jets a veteran among the receiving corps, but he never developed into any type of an impact player. A leg injury suffered last week didn't help either. McKnight was just never consistent enough. In three years with the Jets he rushed for 502 yards on 112 carries.
Donte Stallworth, who had some legal issues in previous years, went to camp with the Redskins, but with a deep crew of receivers, Washington was able to release Stallworth on Monday. The former Raven was having trouble with a hamstring injury that didn't help his cause.
In Oakland, the Raiders dumped kick returner/wide receiver Josh Cribbs. Cribbs was supposed to be the threat that the Raiders needed both in the return game and as a receiver that could stretch defenses. With his surgically repaired knee, though, Cribbs just isn't the player he was a few years ago.
The defending Super Bowl champion Ravens cut TE Visanthe Shiancoe even though they need some reinforcements at the position with the season-ending injury to Dennis Pitta. Ed Dickson has a hamstring injury, but even that couldn't sway the Baltimore staff to keep Shiancoe, a 10-year NFL veteran.
Other notable names among the initial roster cuts, which were due by Tuesday at 4 p.m., were Tom Zbikowski, defensive back in Chicago, Graham Harrell, quarterback in Green Bay, and Aaron Curry, a linebacker who was the fourth pick overall in the 2009 NFL Draft. Curry has had serious knee problems and played just two games last season when he was in Oakland.