Tokyo To Host 2020 Summer Olympic Games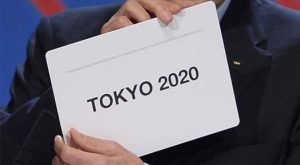 The city of Tokyo will  host the 2020 Summer Olympic Games having defeated Istanbul by a vote of 60-36 on Saturday. Tokyo previously hosted the games back in 1964 and promoted itself as a "safe pair of hands" at a time when global economic and political unrest is rampant.
The final three cities to be considered as host were eventual winner Tokyo, Istanbul, and Madrid. Istanbul then defeated Madrid in a vote to determine the final two cities.
It was pretty clear, though, that the International Olympic Committee wanted to play it safe. Madrid's bid was hampered by the current economic crisis in Spain. Istanbul is dealing with the ongoing political unrest in Syria, which is right next door. With that in mind, it was pretty easy for the IOC to make a decision.
"The certainty was a crucial factor – the certainty that they could deliver," said Craig Reedie, the IOC's vice president.
The Tokyo decision was a step in a different direction for the committee which has made some interesting choices for Olympic hosts recently. The next Olympics, to be held in Sochi, Russia, next year, have run into some serious issues. There are security worries – which there are anywhere – a record $51 billion budget, and Russia's anti-gay legislation which is creating an international outcry.
The IOC selected Rio de Janiero for the 2016 Olympics and Pyeongchang, South Korea, for the 2018 Winter Games. There are construction delays in Rio and Pyeongchang is awful close to North Korea which is a political hotspot.
The one thing that was of concern for the Olympic committee was an issue with a nuclear plant in Fukushima. The plant had been damaged by the tsunami which hit Japan in 2011. Radioactive water was leaking from the plant, but the source was found and the situation contained.
Tokyo assured the committee that the nuclear plant situation has not affected anyone. There have been no health problems reported and Japanese officials are certain there will be no problems. The IOC heard loud and clear and now Tokyo will host the 2020 Olympic Games.
Most Recommended