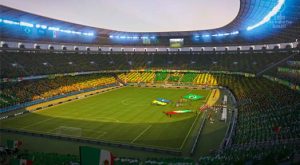 The chants of USA! USA! were a bit premature as World Cup fans were treated to what may have been the best five minutes of the entire tournament Sunday. The world's best player, Cristiano Ronaldo, executed a perfect pass to his Portuguese teammate Varela who headed the ball past American goaltender Tim Howard for the game-tying goal with just seconds remaining.
Top News from World Cup 2014 in South Africa
The 2-2 draw means that no team from Group G has qualified for the Round of 16 yet. The U.S. now has four points and is tied with Germany, its next opponent, for the lead in what has become known as the Group of Death. The Americans will face Germany, one of the favorites to win the tournament, on Thursday. Portugal will face Ghana the same day. The results will determine which teams will move on to the knockout round.
Nani opened the scoring for Portugal early in the first half, which was not a good sign for the U.S. In 20 World Cup appearances, the Americans had never won a match in which they gave up the first goal. Portugal had two great shots at adding a second goal, one by Nani and the other by Ronaldo. Nani's shot hit the post and Ronaldo shot wide on an open net.
On the ensuing counter-attack after Ronaldo's miss, Jermaine Jones got the Americans on the board scoring in the 64th minute to knot the score at 1-1. The Americans went ahead 2-1 when Clint Dempsey knocked in a crossing pass from Graham Zusi with just nine minutes remaining on the game clock.
The U.S. was 0-16-4 in its 20 previous World Cup matches where they allowed the first goal. That streak was about to end, but the Americans gave Ronaldo an opportunity and he seized it. Varela's goal occurred just seconds before the final whistle indicating the end of injury time.
The U.S. will advance to the Round of 16 with a victory over Germany on Thursday. They will most likely advance if the two teams play to a draw. A loss to Germany most likely sends the Americans home.