U.S. Qualifies For World Cup Round Of 16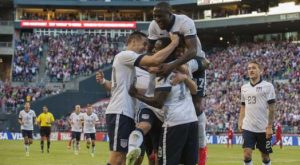 Despite a 1-0 loss to World Cup favorite Germany, the United States advanced to the knockout stage of the World Cup tournament thanks, in part, to Portugal's 2-1 victory over Ghana.
2014 Men's US World Cup Soccer advance to round of 16
With a two wins and a draw, Germany finished atop Group G, known as the Group of Death, with seven points. The U.S. finished with four points with their win over Ghana and draw against Portugal.
It was Germany's Thomas Mueller that gave the Group G winners the only goal of the match. In a driving rain, Mueller scored in the 55th minute. It was his fourth goal of the tournament.
The United States moves on to the Round of 16 after disappointing finishes in the previous two World Cups. They will face Belgium, winners of Group H with wins over Algeria, Russia, and South Korea.
It will be a tough task for the Americans as they face a goaltender in Thibaut Courtois who has given up just one goal in the tournament thus far. Courtois, 22, gave up a penalty kick to Algeria in their first match.
The U.S.'s Tim Howard has been just as good, though, with 13 saves in the Group Stage. Both Howard and Courtois are excellent but the outcome of the match will most likely come down to defense.
It was the U.S.'s poor defense that led to Portugal's first goal in a match that clearly could have been won by the Americans. Poor defense also accounted for Mueller's goal when a breakdown allowed him to score off of a rebound in the match with Germany.
The U.S. will have to contend with Chelsea star Eden Hazard, Belgium's best attacker, but it is likely that Jozy Altidore, who has not played since the first match with Ghana, will play against Belgium. Altidore injured a hamstring against Ghana and will be available for Tuesday's match. It is not clear how much he will play, but his addition could spark the U.S.
The U.S.-Belgium match can be viewed on ESPN Tuesday at 4:00 p.m. EST.
Most Recommended