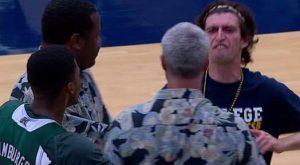 At Thursday night's Hawaii-UC Santa Barbara men's college basketball game, a UCSB fan rushed the court during a timeout and confronted Hawaii head coach Gib Arnold. The Hawaii coach was arguing with officials about a call that went against Hawaii.
The fan, wearing Class of 2014 UCSB t-shirt, charged onto the floor opposite the team benches and proceeded to move toward Arnold. Two Hawaii players recognized what was happening and immediately prevented the male student from getting any closer to their coach.
The young man then ran off the floor where campus police then ushered him out of the arena. He was subsequently arrested. With 6:02 remaining in the first half, the game continued and UCSB went on to win 86-77. UCSB head coach Bob Williams apologized to Arnold and the school's athletic director did the same issuing an apology to the Hawaii athletic department. UCSB also apologized to Big West commissioner Dennis Farrell.
Bill Mahoney, speaking on behalf of UCSB, said the university believes the young man who ran onto the floor is a student at the school. If so, he will face discipline up to and including expulsion from the school. Mahoney said that typically in matters like this, a student will go before the Judicial Affairs Committee which will decide his fate.