UConn, Kentucky Win; 2014 Final Four Is Set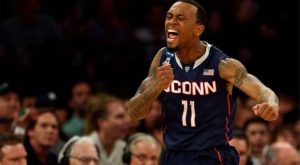 UConn guard Shabazz Napier continued his amazing tournament and the fabulous freshman of Kentucky came through once again as the Huskies and the Wildcats each earned trips to the 2014 Final Four next weekend.
Napier, who was named the East Regional's Most Outstanding Player, scored 25 points, had six rebounds, and four assists to lead UConn back to the Final Four with a 60-54- win over Michigan State. The 6-foot-1 senior scored 17 of those points in the deciding second half. Three of the biggest of Napier's points were three free throws made after he was fouled on an attempt from behind the arc with 37 seconds remaining in the game. Those free throws helped to seal the victory over the Spartans, who finish the season 29-9.
The Huskies become the first No. 7 seed to win a regional final and advance to the Final Four since the NCAA tournament expanded in 1985. UConn will get Florida in the national semifinals. Florida, which has won 30 straight games, last lost on Dec. 2. That loss was to Connecticut, 65-64.
Gary Harris led Michigan State with 22 points. Adreian Payne added 13 and also had nine rebounds. Brendan Dawson, who had scored 50 points in the Spartans past two games, was held to 1-of-3 from the field and five points. The Huskies' DeAndre Daniels bottled up Dawson all game.
UConn head coach Kevin Ollie is now 4-0 in NCAA tournament play. In those four games, Napier has accumulated 93 points, 24 rebounds, and 18 assists in the tourney.
In Sunday's other matchup, eighth-seeded Kentucky got a huge three-point basket from freshman Aaron Harrison to defeat Michigan 75-72. With the scored tied at 72, the Wildcats held the ball for one final shot. With just 2.3 seconds to go, Michigan tried one more desperation heave, but Nik Stauskas shot was off.
Julius Randle, another of those fabulous freshmen, led Kentucky (28-10) with 16 points and 11 rebounds. Randle has had a double-double in each of the four tournament games in which he has played. He is the first player to do since Duke's Gene Banks in 1978. James Young added 13 points and Harrison finished with 12.
Stauskas led all scorers with 24 points. Teammate Glenn Robinson III had 14 and Jordan Morgan, playing in his final game, scored 11.
Kentucky is the fifth No. 8 seed to make the Final Four since the tournament expanded. The Wildcats will face Wisconsin in a national semifinal game next Saturday.
Most Recommended