Under Armour Reaches Historic Deal With Notre Dame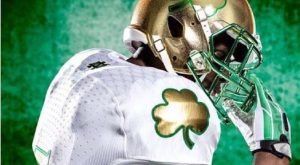 Beginning next school year, Notre Dame will wear all Under Armour apparel and shoes for all of its team sports. The deal, apparently worth around $90 million, will be the largest shoe and apparel contract in college sports history.
The new contract, which was announced Tuesday, replaces the former deal that Notre Dame had with Adidas. That 17-year relationship will end at the end of this school year. This new agreement will also eclipse the $82 million deal that the University of Michigan currently has with Adidas.
While the terms of the deal have not been disclosed – Notre Dame is a private university and does not have to disclose any information – it is believed the value, in cash and merchandise, will hit upwards of $90 million. Irish athletic director Jack Swarbrick was excited about the new deal since some of the cash may be taken in Under Armour stock. The company's stock is up 80 percent from last year.
Under Armour is a relative newcomer to the industry. Founder and CEO Kevin Plank was a special teams captain at the University of Maryland. He hated how the shirts worn under his shoulder pads would get so wet and sweaty. His first product was the moisture-wicking shirt that everyone seems to wear now.
In his first full year of business, 1997, Plank's revenues were $110,000. Last year's projected sales were $2.25 billion. The company just started selling shoes in 2006 and sales are expected to climb in 2014.
Under Armour has shoe and apparel contracts with 12 other schools including Plank's alma mater, Maryland, South Carolina, Texas Tech, and BCS runner-up Auburn. Plank says that while the new Notre Dame deal is historic for his company, he won't toy too much with the history of Notre Dame. There will not be any fancy uniform updates, for example. The new contract is good for 10 years.
Most Recommended