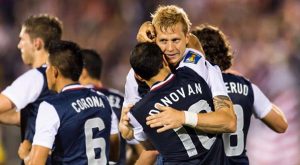 For the first time since 2007, the USA mens soccer team captured the CONCACAF Gold Cup championship. And they did so in stunning fashion.
Brek Shea, entered the game as a sub in the 69th minute, and found the net for the Americans only goal in the 1-0 defeat of Panama. Shea's goal came just less than a minute after he entered the game. Landon Donovan had missed on a shot but Shea found it and knocked it home for the game-winner.
It was the 11th straight win for the US Soccer team and it should help them improve when the next FIFA rankings come out on August 8. More than likely, the U.S. will surpass Mexico as the top team for CONCACAF. It comes at a great time too as the next round of World Cup qualifying comes in September.
Jurgen Klinsmann the USA Mens Soccer Coach, was forced to watch the game from a suite in the statnds while serving a suspension, won his first international title as the American coach. Klinsmann received the suspension for his outburst over a call during the semifinal game. He had won the 1990 World Cup and the 1996 European championship as the head coach of Germany.
Donovan, the men's national team's all-time leader in scoring and assists, was named the tournament's MVP. He wound up with five goals and seven assists, even though he did whiff on a perfect scoring opportunity that Shea turned into a goal.
Mexico was expected to be the American's opponent in the final, but they were upset by Panama. Panama used a very stingy defense to beat the Mexicans in the semifinal and continued that in holding the U.S. scoreless for 69 minutes.
Holding the USA mens soccer team to a single goal was no small task. They outscored their opposition 20-4 throughout the tournament. No other team scored more than 11 goals.
The USA's next step in qualifying for the World Cup takes place on September 6. The Americans will face Costa Rica.