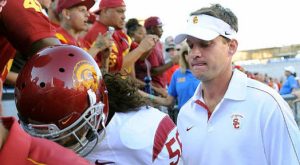 The first coaching casualty of the 2013 season is USC's Lane Kiffin, who was fired after the Trojans lost to Arizona State, 62-41, on Saturday night.
Kiffin, who attained a record of 28-15 over his four years at the school, met with athletic director Pat Haden immediately after the Trojans returned from Tempe. It was then that Kiffin learned he would no longer be the head football coach at USC.
Haden, a former Trojan star quarterback himself, never really felt good about how the team had performed early this season. The Trojans' effort in the season opener with Hawaii was lackluster and then they scored just seven points in a loss to Washington State, a perennial Pac-12 doormat.
The move to fire Lane Kiffin doesn't come as a shock to many in the college football world. Kiffin, who took over one of the nation's most storied programs at the age of 34, was clearly on the hot seat coming in to this season. After fighting the battle against NCAA sanctions in his first two seasons, Kiffin and the Trojans were ranked No. 1 in the nation prior to the beginning of the 2012 season. He had arguably the best QB in the country in Matt Barkley and a stable of receivers that included Robert Woods (now in the NFL) and current Trojan standout Marqise Lee.
The result was a 7-6 season where USC lost its final three games of the season. USC became the first team in over 50 years to be the pre-season No. 1 and finish the season unranked. Even so, Kiffin remained.
With Kiffin's dismissal, Ed Orgeron will now serve as the Trojans' interim head coach. Orgeron served as an assistant head coach under Kiffin and has experience as a head coach leading the Mississippi program from 2005 to 2007.
Denver Broncos' defensive coordinator Jack Del Rio has been rumored to be an early candidate for the job. Del Rio is a former Trojans' All-American linebacker. Haden has said that it is still way too early to talk about Kiffin's replacement and Del Rio stated that he has a job to do - in Denver.
USC has a bye this week, which will give the program some time to relax and adapt to the new situation. The Trojans play Arizona on October 10.