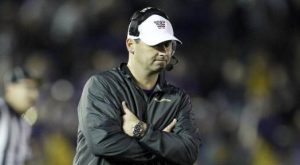 It is one of the most storied football programs in the entire nation and when the University of Southern California parted ways with Lane Kiffin after a week five loss to Arizona State, the talk began about who would be the one to lead the Trojans back to national prominence, back to greatness. That question was answered Monday as USC athletic director Pat Haden announced current Washington head coach Steve Sarkisian as the Trojans new head man.
Sarkisian, like Kiffin, was on the USC staff during the glory days of Pete Carroll's tenure. He was the Trojans' QB coach from 2001 to 2003 and then returned in 2005 rising to the role of offensive coordinator and remained until he was named the head coach at Washington in 2009.
The former Brigham Young University quarterback went 34-29 as the Huskies' head coach. He inherited a team that was winless, 0-12, in 2008 and promptly went 5-7 in year one. He took Washington to bowl games in each of the next three seasons and finished 8-4 this season.
Sarkisian had the opportunity to return to Los Angeles in 2010 when Carroll left to become the head coach of the NFL's Seattle Seahawks. With just one season under his belt in Washington, Sarkisian decided it was too soon to make a move and remained the Huskies' head coach.
Haden had identified 20 possible candidates to replace Kiffin, who after a 7-6 season in 2012, was clearly on the hot seat coming into the 2013 season. After an ugly loss to the Sun Devils, Haden decided it was time to pull the plug. Names mentioned in conjunction with the USC vacancy included Texas A&M's Kevin Sumlin, who recently signed a new six-year contract extension, and Boise State's Chris Petersen whose name seems to pop up with every big-name opening.
The move to hire Sarkisian sparked some controversy as interim head coach Ed Orgeron promptly resigned after the announcement was made. Orgeron took over the head coach responsibilities after Kiffin's ouster and led the Trojans to a 6-2 record. He is widely regarded as one of the nation's top recruiters and had served at USC for a total of 11 years. Haden had asked Orgeron to stay on the staff as an assistant, which he, of course, declined. As a result of Orgeron's resignation, offensive coordinator Clay Helton will likely assume the role of interim head coach for the Trojans' bowl game.