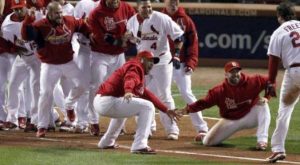 The St. Louis Cardinals took a 2-1 lead in the World Series Game 3 after it ended, for the first time in history, on an interference call. The Cardinals' Allen Craig was awarded home plate, the game-winning run, after being interfered with by Will Middlebrooks Red Sox third baseman.
With the bases loaded in the bottom of the ninth inning and the Boston infield in, Red Sox catcher Jarrod Saltalamacchia caught the force out at home from second baseman Dustin Pedroia. He then tried to throw out Craig, who was moving to third base on the play. Saltalamacchia's throw was way off and Middlebrooks' diving attempt to field the throw got him tangled up with Craig.
Noticing the errant throw, Craig immediately attempted to score, but was tripped up by Middlebrooks. Craig was thrown out at home by left fielder Daniel Nava, but umpire at the home plate Dana DeMuth had already signaled the obstruction at third base. As a result of the interference, Craig was awarded home and the run gave the Cardinals the victory.
The ending of Game 3 overshadowed a brilliant World Series contest that saw Boston battle back from a two-run deficit not once, but twice in the game. Trailing 4-2 in the eighth, Jacoby Ellsbury scored on a fielders' choice and Xander Bogaerts drove in the game-tying run with a single to center field.
That set up what will be one of the most talked about World Series games for years. For the first time in baseball history, a game ended on an interference call. Craig became the first player since 1986 to scored the winning run in a World Series game on an error. That 1986 game…you guessed it. It was the famous Red Sox blunder by Bill Buckner that allowed Ray Knight to score and win the series.
The Cardinals now lead the series, 2-1, which may be ominous for Boston. Since the division-play era began, 18 teams have gone into Game 3 tied at one game each. Sixteen of the those times, the winner of Game 3 has gone on to win the World Series.