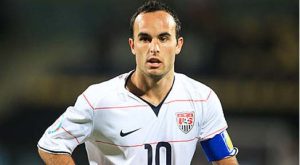 United States men's World Cup soccer coach Jurgen Klinsman announced the 23-man roster that will head to Brazil this summer to compete in soccer's main event. One name not on that roster was four-time World Cup competitor Landon Donovan.
It came as a shock to many in the soccer world and also to Donovan himself who believed that his performance in the U.S. camp training sessions was not only good enough to get him on the roster, but also good enough to win a starting position.
"Based on my performances leading up to camp…based on the way I trained and played in camp, I not only thought I was part of the 23, I thought I was in contention to be starting," said Donovan.
What Klinsman and the U.S. team will be missing from the World Cup team is 57 career goals, 58 career assists and the experience of four World Cup tournaments. No other player on the roster comes close to the kind of number Donovan has put up in his amazing career. World Cup captain Clint Dempsey is the No. 2 scorer in U.S. history. He has 38 goals in his career.
Some believe that Donovan's age, 32, may have something to do with the decision. There are others who believe it is his perceived lack of passion for the game evidenced by his soccer sabbatical a year ago during the World Cup qualifying schedule. Donovan had also said back in 2012 the he wasn't sure that he wanted to go to Brazil.
Regardless, the man who has orchestrated 115 U.S. goals in international play is still one of the world's elite soccer players. Why he didn't make the roster ahead of players like 18-year-old Julian Green, DeAndre Yedlin (20), or John Brooks (21) is baffling. Klinsman even kept 32-year-old Brad Davis, who has only 14 game appearances in international play. Donovan has played in 164.
Like Bruce Arena, Donovan's coach with the Los Angeles Galaxy of Major League Soccer, said, "If there are 23 better players than Landon, then we have a chance to win the World Cup." Only time will tell if the decision was a good one.