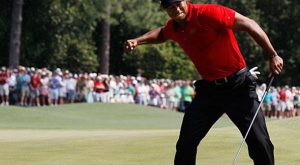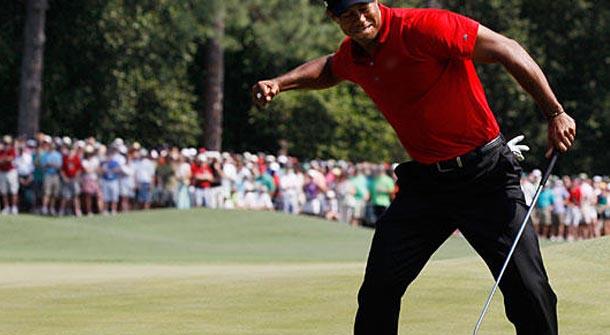 Do you think Tiger is back? He clinched the winning point for the American team at the President's Cup down in Melbourne Australia. He then followed that up with a win in his tournament the Chevron World Challenge in Thousand Oaks, CA by birdieing the last two holes for his first win in over two years. Tiger Woods has obviously been through a mountain of off the golf course issues he has had to address. It appears he is emotionally more stable than in a while. The look on Tiger's face when he made that putt to clinch the winning point was so euphoric. It looked like the old Tiger to me. He looked genuinely happy and the reception he received from his teammates put a smile on my face as I watched.
I had the privilege to play with Tiger when I was at the University of Florida. He was a stud at Stanford and our teams played against each other a number of times the two years he was there. Over the years and most recently the US Open at Bethpage in 2009 he and I have had a chance to visit and it has always been positive and Tiger has always been supportive of my golf endeavors. I want Tiger to get back to his winning ways. Golf needs Tiger back on top. With all of the young talent on the TOUR right now and the fact that Luke Donald is the #1 player in the world it will make a great story line to see Tiger on the prowl seeking out another major win and the coveted #1 spot in the world that he owned for so long.
The sponsors want Tiger in top form; the TOUR wants Tiger playing his best, the game needs him to find his winning ways and golf fans as a whole will love the story as he surges back on top. When Tiger was on his run his will and belief that he would hit the shot he needed or make the putt was what separated him from the rest of golfers. I think Tiger is comfortable again mentally and once he starts to finish birdie, birdie a few more times to win a golf tournament, watch out world. Enjoy 2012 watching Tiger and it will be of interest to see if he is able to build on his recent success. Keep an eye on his patience level, how well he deals with missed putts and poor shots. The key will be a long fuse, which will display the quiet confidence he is regaining.