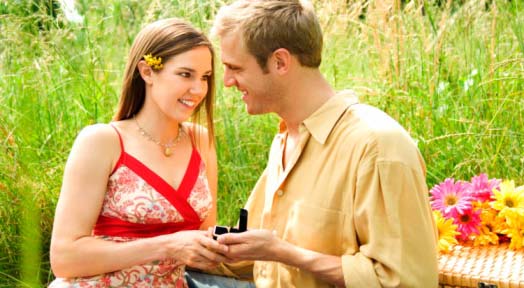 So you've decided to pop the question. Great! You've even got the ring. Even better. Now what are the ways to propose to her. There is some pressure out there to make sure your soon-to-be fiancée is swept off her feet and says yes. You could always go traditional, which has been working for years. But you've decided that you want to make it a truly unexpected and memorable moment. So here are a few ways to propose to your girlfriend that are guaranteed to score you some major points.
Memorable ways to propose to your girlfriend
Takeout Night
It's takeout night and you order your favorite pizza with a twist. When she opens the box, the top lid reads "Will You" and the words "Marry Me?" are spelled out on the pizza in olives. Talk about a happy meal.
Highway Overpass
This memorable proposal made local and even national news. A Miami man used the overpass on the Palmetto Expressway to use black and red cups to propose to his girlfriend, Yane, who was caught off guard. It was instagrammed and went viral. Of course, he had help from his friends and did check with the local authorities to make sure it was legal first. And, of course, she said yes!
Make it Seasonal
Depending on the time of year and your girlfriend's favorite holiday, you can make this a seasonal proposal. For example, say she loves Halloween. You can get a few pumpkins and some friends to help you carve out your proposal. Place candles in them, dim the lights and guide her into the room with your proposal spelled out in jack 'o' lanterns.
Use Your Pet
This is a tricky one, especially if you have an unruly pet. If your pet is cooperative, it can work. Place the ring on your pet's collar with a note and a bell. Send your pet in to her; she's going to want to find out the source of the noise. She will see the note and your proposal. To minimize the risk, you can use just the note and the bell and keep the ring with you, just in case.
Puzzle It
There are plenty of sites, like CreateJigsawPuzzles.com that help you create custom puzzles. You can take a photo and imprint it with your proposal message and have it custom-made. You can have a fun private game night where you get together and put the puzzle together. As she's about to finish it, present the ring.
Photo Booth
Photo booth pictures are cute keepsakes, especially if they have some meaning to both of you. It may take you a few tries but you can prepare your message on paper and hold each part up just as the camera is about to flash. She will definitely have a laugh and hopefully a 'Yes."