69 Position To Try Out In The Bedroom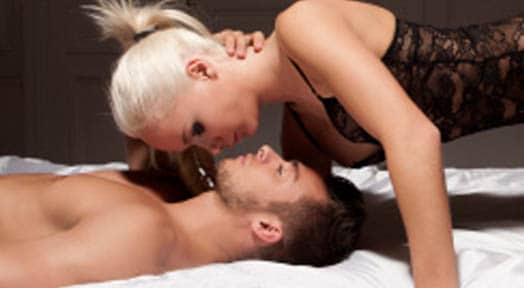 There is an art to love making when it comes to the 69 position. You can't just say to yourself, "I want to try such position" and then never consult with your partner. 69 is one of these positions. It takes skill, experience, and of course confidence to pull off 69 and make it perfect. The purpose of trying 69 is to enjoy each other's skills at the same time. Instead of oral sex being a one-sided position it can now be a two person game. Want to know how to master the 69 position in all its glory? Check out our 5 step process to getting the action you want the first time.
Tips on how to master the 69 position
1. Don't make it the first move you pull out.
If you are having sex with your girl for the first time don't scare her by throwing her on top of you upside down. Take it slow. Start with other positions and work your way up to 69. You have to remember that this is one of the most intimate positions you will ever experience, so don't try to rush it.
Tip to remember: Make sure you are properly cleaned and groomed before you attempt this position. Don't put her down where you wouldn't go yourself.
2. Put her first.
Because this position is just about every guy's fantasy it can be, er, hard to keep control of, eh, 'things'. For this reason you should start working on her desires first. Start licking and teasing her long before she starts going to town on you. Have her sit on your face and go at her and slowly maneuver her to your area after a few minutes of her stimulation.
Tip to Remember: You will be the king if you make her orgasm before you do!
3. Don't lose yourself in the moment.
This is one time where you shouldn't follow Eminem's advice. Stay in the moment and pay attention to how you are making her feel. It can be easy to get distracted by her amazing lips and hot breath on your manhood but regain your focus by remembering how difficult she can be to please. Bring all your best moves to the table and make her want you so bad she can't get enough of you.
Tip to remember: Concentrate on getting her to the right place and it will feel amazing for you both.
4. Switch things up.
The traditional 69 position requires you to lay on your back with her on top, and this isn't always the most comfortable position if you are going to be down there for awhile. Instead, try 69 lying next to each other with your head between her legs and vice a versa. Give your head and neck a rest while getting an excellent view of her lady bits by lying next to her.
Tip to remember: Pillows are awesome! Use them to support both of your head and necks.
5. Let your tongue explore her world.
69 gives you access to regions on her body you never have had before. Explore her anus, inner thighs, and g-spot from this new location and you would be surprised at how amazing she feels afterward.
Tip to remember: Leave the teeth for dinner time. Use only your tongue and lips to pleasure her.
Most Recommended