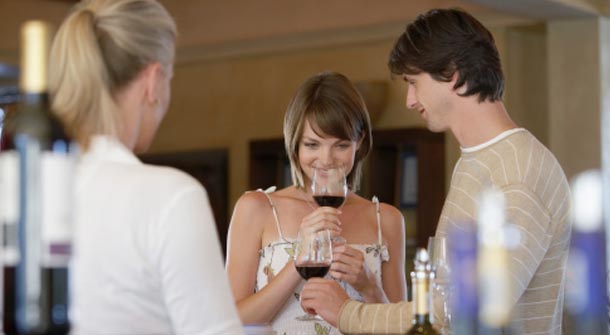 A first date is all about making a good first impression and proving that your worthy of spending more time with in the future. Of course making that good first impression can sometimes be difficult if you go with the usual first date options or if you have to stick to a budget because of low funds. So how do you bridge the gap between a great date and saving money? Take a look at these 4 amazing first date ideas for under $20 that will help you to get a promise of a second and third date.
Take Her for a Wine Tasting
There is something about wine that brings out a sensuality and romance that women love, and better yet it is oftentimes very cheap to do as well so try it out with your first date ideas. A wine tasting allows you to show a little culture (which women love), taste some great wines and usually eat delicious foods paired with the wines. There are many wineries all over, not just restricted to the more common areas like Napa and so forth, so do a little research and find a local winery where you can wine and dine your date in style.
Take Her Outdoors
Instead of a traditional "dinner and a movie" first date, why not take her outdoors and see the wonder of nature together? There are endless outdoor activities that would be perfect for a first date and many are absolutely free. Whether you take her ice skating at an outdoor rink in the winter, apple picking in an orchard during the fall or picnicking during the spring or summer, the outdoors is the perfect choice of a unique and fun first date that will make a great impression and not break your bank in the process.
Take Her Somewhere that Involves a Particular Interest of Hers
What better way to make a great impression on the first date than to organize your date around a favorite interest of hers? Do a little research and find out what she is interested in. Is she into art? If so think about taking her to an art exhibition or a museum. Is she into animals? Take her to the zoo or a marine park. Be creative and play off of what she loves to show her how much you pay attention and are interested in the same things she is.
Take Her to a Rustic/Themed Pub
All too often dates can take places at night clubs and crowded bar's, and though doing so doesn't preclude you from getting a second date it doesn't speak of creativity or originality either. Rather, why not take her to a rustic or themed pub where you can play a few round of darts, drink a few pints of beer and get lost in each other? You can find themed/rustic pubs all over from the lively Irish