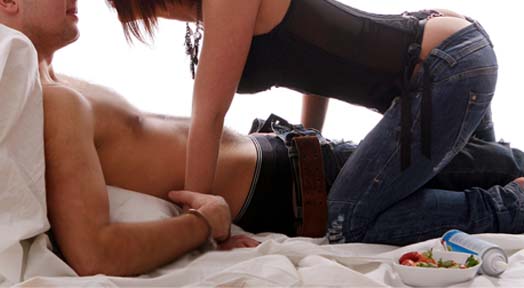 Ever since that movie, 9 ½ Weeks, the idea of Desserts in the bedroom (or sex in the kitchen for that matter) has become incredibly sexy. But in the real world, we don't have movie prop assistants cleaning up our messes or managing the experimentation process. However, with a little planning, you and your sweetie can create movie-worthy moments of your own.
Try edible body paints for Desserts
Chocolate, caramel, vanilla, cherry... if you've got a sweet tooth, these tasty concoctions never disappoint. The additional activity of painting your partner (finger painting is more sensual, brushes are tantalizing) heightens the arousal factor on this activity. If playing in the bedroom, outfit the bed with older or darker colored sheets as chocolate and cherry flavors can sometimes leave smudge stains on bed linens.
Consider edible lingerie
edible panties, bras and other lingerie are like fruit roll ups for grown-ups, and just as fun. Experiment with lightly nibbling the treats off each other until nothing is left.
Add Some Sizzle
The sensation of heat or cold against the skin is incredibly exciting. As are sensations of fizzing or tingling. Popsicles are a fun treat to take into the bedroom (again – old sheets are a smart bet) and you may even be interested in some enticing new candies that pop and fizz for an amazing and unique sensation and a tasty sweet flavor at the same time.